I'm a 30-something single mommy to my 3 beautiful children.
We live in Ontario, Canada with our 3 cats, Chihuahua and 3 gerbils.
I joined the PTCG in the beginning of 2014 and have enjoyed it very much.
I am the owner of Candy Coated Pixels and love baking and crocheting.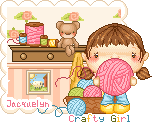 Name -- Jacquelyn
Hair colour -- Brown
Eye Colour -- Blue
Favourite Colours -- Pinks, Blues, Greens, Purples
Favourite Cards to Collect -- Halloween/Autumm, Snowmen, Fantasy, Candy/Baking/Crafty